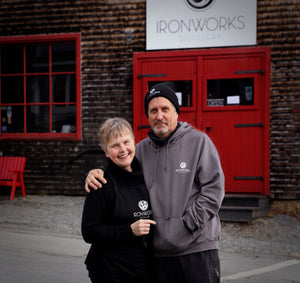 From the Beginning
First, the introductions. The founders of Ironworks Distillery are Pierre Guevremont and Lynne MacKay. Our journey to artisan distilling began in 2008 and was inspired by a random reading of a magazine article about the growth of the industry. The project appealed to us - so we took that road to see where it would lead.
Our initial motivations were based on a set of key principles:
We wanted to actually create products from scratch, to learn all the aspects of our new business, control the fermentation, the distillations, the barrel aging and infusing, all ourselves.
We were determined to source as much of our raw ingredients in Nova Scotia as possible, to take full advantage of the bountiful agricultural output of this province.
We wanted to maximize the number of direct and indirect jobs that we could create, firmly believing in our mantra "Made in Nova Scotia = Jobs in Nova Scotia."
Over the years we have developed an extensive network of farmers exclusively within Nova Scotia from whom we buy products.  Our cranberries travel a mere 8 kilometres from bog to distillery and no fruit travels more than 150 kilometres.  Apples, pears, grapes, raspberries, blueberries are bountiful in Nova Scotia and we use them all.  Since sugar cane doesn't grow in Nova Scotia, at least not yet, and we simply couldn't not make rum, we have opted to use Crosby's molasses, imported from Guatemala and processed in New Brunswick, for our award winning Rum. 
We have 30,000 litres of tank capacity for fermentation, and all year long we are fermenting apples, pears and molasses for our rum, brandy and vodka. In recent years we have been mashing and fermenting malted barley as well, for our Heart Iron Whisky.  Many of our fermentations are warmed by the hot water we recover from distillation, and we typically ferment longer than most distilleries, which gives a richer taste profile, unique to our region.
As we have grown, the number of barrels of aging products has grown with us. There are now 200 barrels of our distilled product in oak.  Most are in the barrel cellar and the newly built Quarrie Room , but as we are running out of space, barrels are now found throughout the distillery, including in our offices.
We take enormous pride in creating our products. Our vodka is made from Nova Scotia apples, and as such is one of very few made in that way within Canada. Our gin includes a portion of local juniper berries and numerous Nova Scotia sourced botanicals, including rosehips from a hedge down the street.  
Our Pear-eau-de-vie with a pear in the bottle is perhaps the product that best reflects our commitment to local ingredients. Each spring we put 300 - 400 bottles in the pear trees of the Boates Farm in Woodville; each fall we harvest these bottles, now containing full-grown pears and fill each with distilled pear brandy from the previous season. It is magical.
We truly love the process of creating our spirits and liqueurs from scratch. We never fail to get excited by the first loads of fresh apples in the fall, by the sweet aromas of the fermentations, by the delight of the first taste of pear coming off the still.  We feel privileged to be able to work with great growers, and their exceptional fruit.  We welcome you to share the tastes of Nova Scotia in our spirits and liqueurs.
Come visit, Take a tour, Enjoy a taste.
Our still is right in the shop, and she is running most days that we are open.
If you do come to visit, we know you will fall in love with Lunenburg, just as we did. Save some time to enjoy the marvellous restaurants, take a walking tour, visit the Fisheries' Museum or just sit on a dock and breathe the sea air.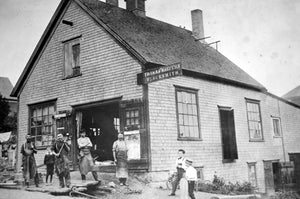 History of the Walters Blacksmith Shop
In June 2009 we walked into The Blacksmith's Shop in Lunenburg and immediately knew we'd found a home for our distillery. In this workshop, at the corner of Montague and Kempt streets, a marine blacksmith by the name of Thomas Walters produced ironworks for shipbuilders all along the South Shore. Sweating in the heat from three coal-fired forges, Walters and his apprentices crafted anchors and chains, fairleads and ferrules, clevises and gaffs, windlasses and fiddleys – anything remotely nautical that could be maneuvered onto an anvil and hammered into shape. The blacksmith's shop produced hardware for both Bluenose schooners as well as a Hollywood version of HMS Bounty (the one that boasted Brando as chief mutineer). Best of all, it provided an apt and (we hope) memorable name for our new venture.
In the summer of 2009 we began renovating to create a working area for our beautiful German-made still, as well as a tasting and shopping venue for future customers. We took care to preserve the unique historical character of this late-19th-century building, one of the landmarks of the Old Town. Three months later, our first batch of vodka made its way from an unassuming copper tube to a few testing glasses on our kitchen table…from there to be raised in a toast to the birth of Ironworks Distillery, the spirits it produces and the spirit it embodies – for us and, we hope, anyone who shares a dram.